Green Airport
5-year Plan
Environmental Management 5-year Plan (2014-2018)
Environment Sustainability
As one of the main channels connecting Macau to other countries, Macau International Airport (MIA) should fulfill the responsibilities of spreading the concept of "Environmental Protection" to every units in the airport and also the community. "Environmental Protection" is a social responsibility, and a key element of developing sustainability in each country or area. To execute the measures of "Environmental Protection" as to contribute to the green development of Macau, aside from fulfill social responsibility, it helps to improve the environment of the airport, and ensure sustainability which will help to enhance the mission of MIA– "Safety, Efficiency, Effectiveness".
Airport Carbon Accreditation (ACA) Programme
MIA had participated in the ACA Programme from organized by ACI and accredited with Level 2 – "Reduction" since 2014, with the target set as "Reduce Carbon Emissions per Movement by 20% in 2018 compared to 2012 Level". Through continuous effort, to reduce emissions, MIA had reduced 40% of carbon emissions per aircraft movement in 2018 compared to that of 2012.
In 2019, MIA had set another target "Reduce Carbon Emissions per Movement by 30% in 2028 from 2018 Level" and revised our Carbon Management Plan. MIA started to implement more environmental projects and measures that can be done to achieve the target, such as LED light replacement projects in various areas within MIA, replacement of aging vehicles with low or no emission vehicles and look for opportunities to recycle more wastes originated from daily operations in MIA.
Award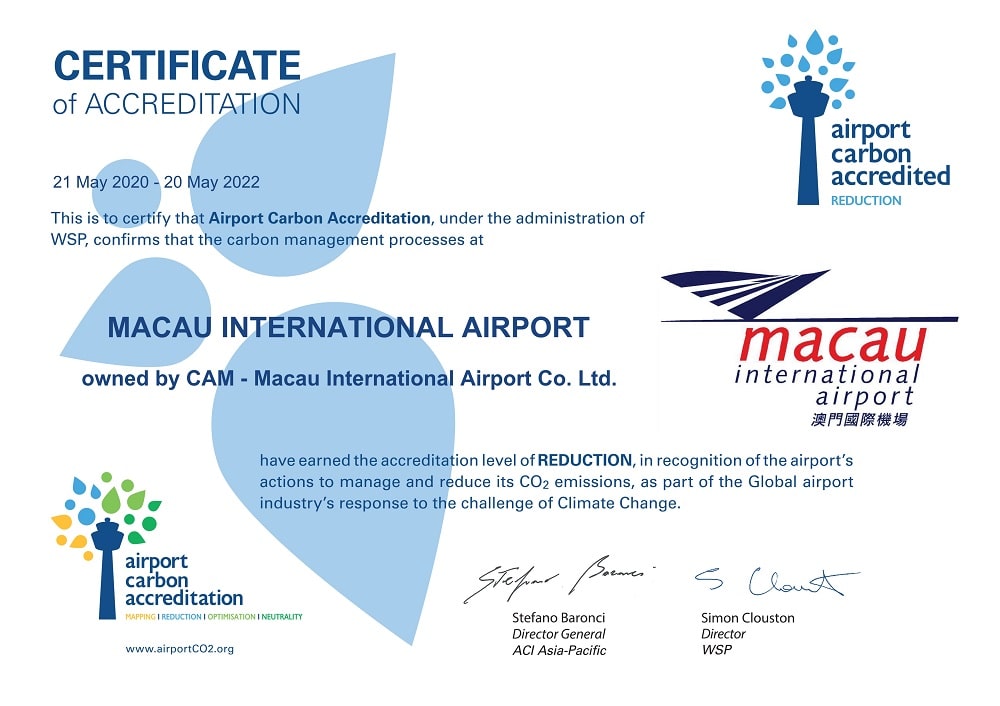 Back to the top