Passenger Guide
Departure
Departure Flow
For those who want to travel to mainland China, visas may be obtained at any of the China Travel Service (CTS) offices counters in Macau (the main branch is located at the 35 Rua de Nagazaki - phone: (+853) 2870 0888) or at the Gongbei Immigration and Customs (after the Border Gate).
Portuguese passport holders who need the consulate's assistance may go to the Portuguese Consulate located at the 45 Rua Pedro Nolasco da Silva - phone: (+853) 2835 6660/1/2 or fax: (+853) 2835 6658.
Check-in

Baggage
Screening
Security
Check

Immigration

Boarding
Check-in
Baggage Screening
Security Check
Immigration
Boarding
Special Reminder
Guidance for air passengers during COVID-19 outbreak:
| | |
| --- | --- |
| | Persons entering the Airport Terminal Building must undergo body temperature screening and present a valid Macau Health Code. |
| | Passengers are required to prepare all necessary health certificates and a valid proof of negative COVID-19 nucleic acid test result according to their departing destinations prior departure. |
| | For more information on preventive measures for air passengers during COVID-19, please visit: this page. |
| | Requirements on Proof of Negative SARS-CoV-2 Test, please visit: this page. |
The above information will be adjusted at any time according to government policies and instructions, or you may also contact the airline directly for the latest information.
Check-in Baggage Screening Process
The Check in Baggage Screening process was launched at the Macau International Airport from 23rd September 2019 for Check in Zones A and B and from 25th September 2019 for Check in Zones C and D.
From these dates onwards departing passengers at Macau International Airport will approach their Airline's respective check in counter first, where check in procedures will take place.
Departing Passengers travelling without check in baggage may proceed directly to the Departure Lounge after check in.
Departing passengers checking in their baggage will be issued their respective baggage tags and will bring their luggage to the designated check in zone's hold baggage screening check point and deposit them at the respective x-ray machine for screening. At these check points, passengers, after depositing their baggage at the x-ray machine should look at the monitors and ensure their baggage goes through the x-ray machine. Should the passenger's name and flight number appear on the monitor then the passenger will have to proceed to the search room for manual inspection of the baggage. If the passenger's name and flight number is not shown then the baggage is in condition to be checked in and loaded to the aircraft for the passenger's respective flight, in this case the passenger may proceed to the departure restricted area.
All passengers are requested that after these formalities make their way to the departure restricted area, clearing passenger security screening and passport control, at their earliest convenience.
Macau International Airport has installed self-service check in kiosks for departing passengers' convenience at it encourages its use along with web check in of their respective airlines.
In case any assistance is required, passengers may approach any of our Airport staff for assistance or call (+853) 2886 1111.
Macau International Airport wishes all passengers, pleasant travels.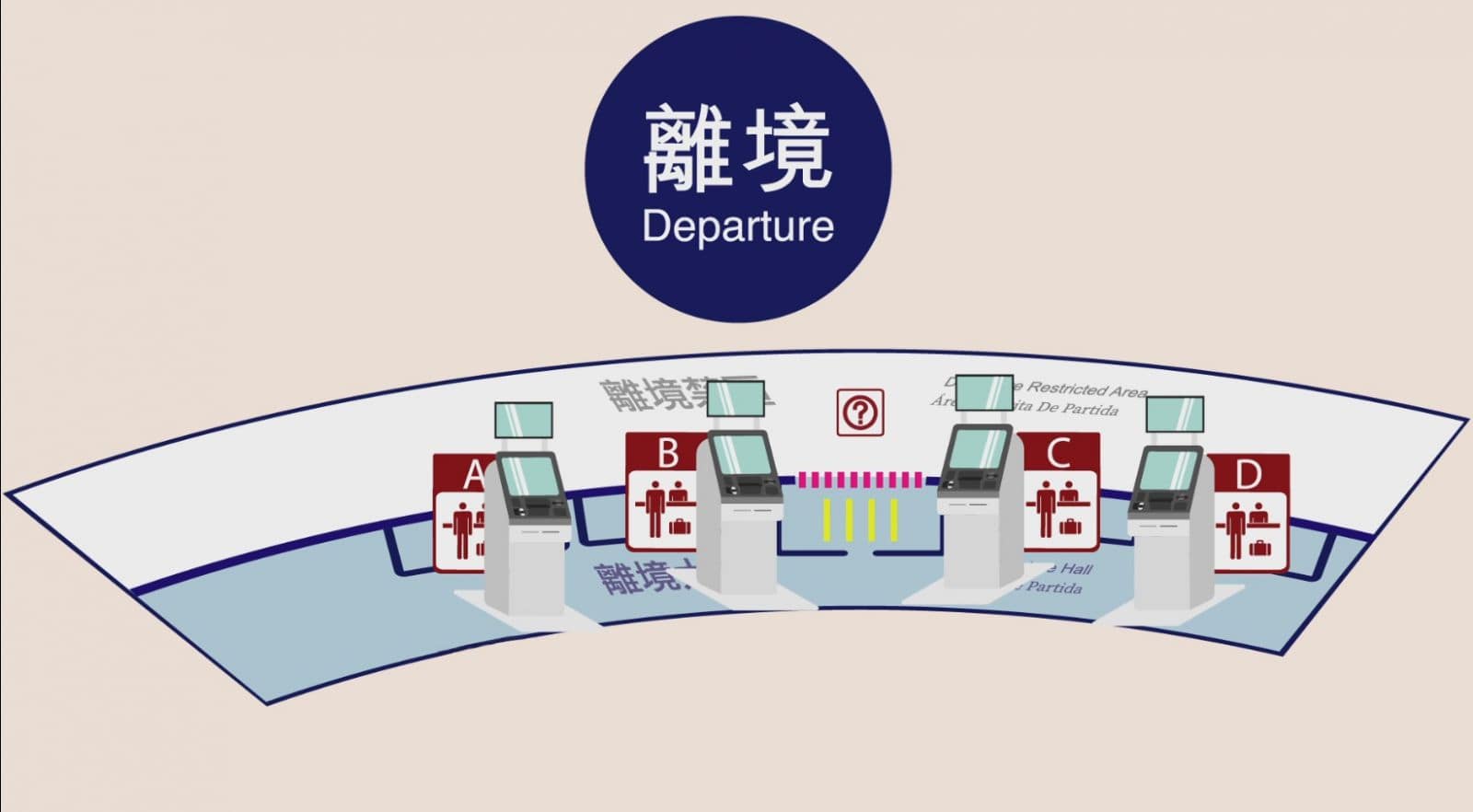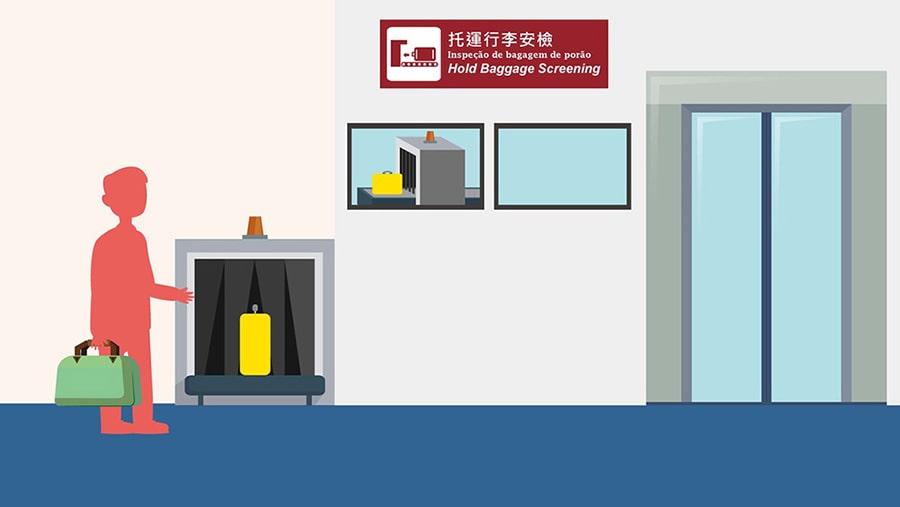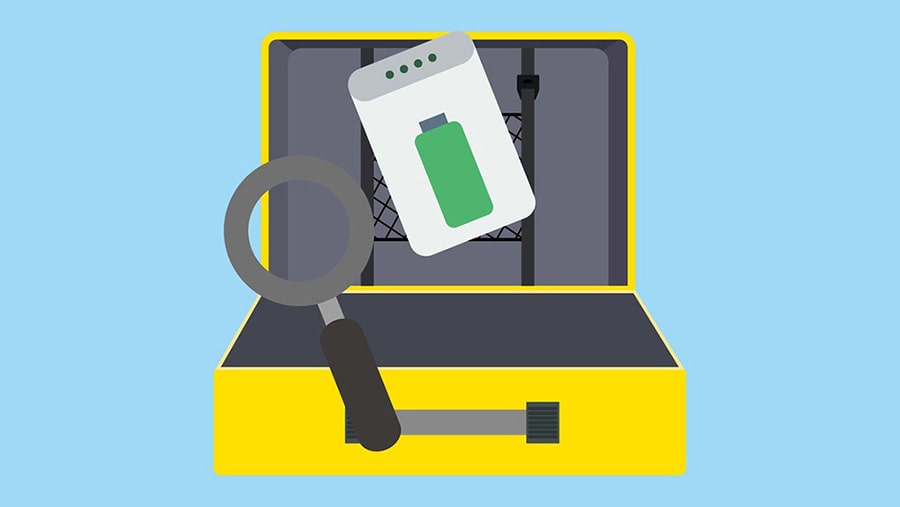 Security Requirements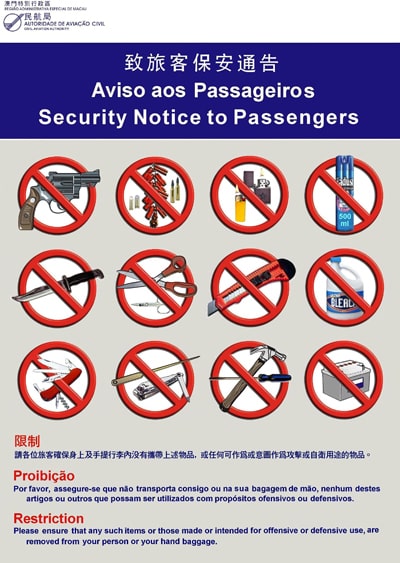 Forbidden items
The passengers shall not be allowed to take the following type and/or quantities of articles onto an aircraft cabin:
Firearms including shotguns, air guns, bolt guns, stun guns, flare pistols and starting pistols, replica or imitation firearms, cross bows.
Ammunition, explosive material, including military, commercial or home-made explosive, explosive devices, detonators, smoke cartridges, grenades, mines and other explosive military ordnance, firework, signal flares, replica or imitation explosive material or devices.
Pointed or bladed items made or adapted to cause injury, flick knives, gravity catch knives, stilettos, daggers, kukris, other knives both real or ceremonial with blades of any length or description, including sheath knives, kirpans and skeandhus, open razors, scalpels, ice picks, swords, sword sticks, umbrellas containing sword blades, harpoons, spears or arrows, professional tools, corkscrews, darts, hatchets, hypodermic needles (except as approved for medical purposes), nail clippers with nail file over 6 cm in length (excluding nail file), pointed nail file, pointed scissors, round-ended scissors with blade over 5 cm in length.
Knuckle-dusters, clubs, coshes, rice flails, sticks, hammers, handcuffs, ropes, martial art devices.
Items containing incapacitating substances, including tear gas, mace and phosphorous acids.
Highly inflammable substances more than one lighter or safety matches on person, gasoline, kerosene, lighter fluid or liquids in unmarked bottles.
Gas containers and aerosols with a capacity of more than 500 milliliters and/or total net quantity exceeding two liters, carbon dioxide cartridges, fire extinguishers, oxygen tanks (except as approved for medical purposes).
Corrosive, toxic and infectious substances, caustic materials, insecticides, paint, tear gas.
Magnetized materials.
Radioactive materials.
New Security Measure at Macau International Airport effective from 1st March 2019
Lighters and matches are prohibited by any means to be carried on airplanes and security restricted areas of the airport.
Camera tripods, monopods or selfie sticks with length over 30 centimeters after being retracted or folded are forbidden as carry-on items.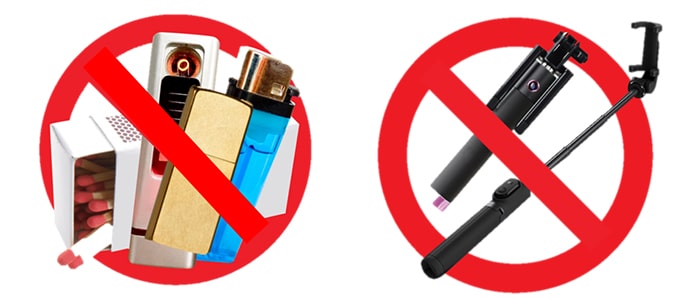 For detailed information, passengers are to contact their respective airlines for conditions of carriage and may browse the website links from Macau Civil Aviation Authority.
Liquids, Aerosols and Gels (LAGs), Restricted Articles and Dangerous Goods
Security Control
Back to the top