Passenger Guide
Departure
Departure Flow
For those who want to travel to mainland China, visas may be obtained at any of the China Travel Service (CTS) offices counters in Macau (the main branch is located at the 35 Rua de Nagazaki - phone: (+853) 2870 0888) or at the Gongbei Immigration and Customs (after the Border Gate).
Portuguese passport holders who need the consulate's assistance may go to the Portuguese Consulate located at the 45 Rua Pedro Nolasco da Silva - phone: (+853) 2835 6660/1/2 or fax: (+853) 2835 6658.
Check-in

Baggage
Screening
Security
Check

Immigration

Boarding
Check-in
Baggage Screening
Security Check
Immigration
Boarding
Security Requirements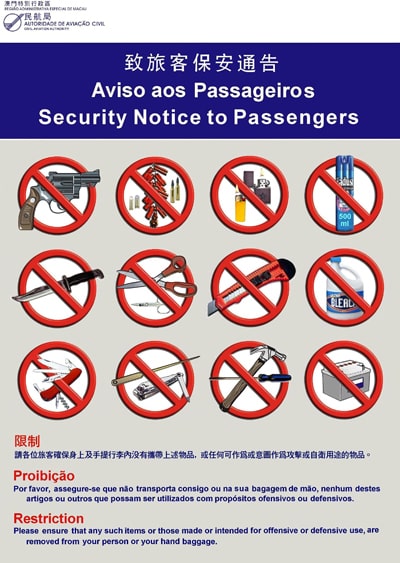 Forbidden items
The passengers shall not be allowed to take the following type and/or quantities of articles onto an aircraft cabin:
Firearms including shotguns, air guns, bolt guns, stun guns, flare pistols and starting pistols, replica or imitation firearms, cross bows.
Ammunition, explosive material, including military, commercial or home-made explosive, explosive devices, detonators, smoke cartridges, grenades, mines and other explosive military ordnance, firework, signal flares, replica or imitation explosive material or devices.
Pointed or bladed items made or adapted to cause injury, flick knives, gravity catch knives, stilettos, daggers, kukris, other knives both real or ceremonial with blades of any length or description, including sheath knives, kirpans and skeandhus, open razors, scalpels, ice picks, swords, sword sticks, umbrellas containing sword blades, harpoons, spears or arrows, professional tools, corkscrews, darts, hatchets, hypodermic needles (except as approved for medical purposes), nail clippers with nail file over 6 cm in length (excluding nail file), pointed nail file, pointed scissors, round-ended scissors with blade over 5 cm in length.
Knuckle-dusters, clubs, coshes, rice flails, sticks, hammers, handcuffs, ropes, martial art devices.
Items containing incapacitating substances, including tear gas, mace and phosphorous acids.
Highly inflammable substances more than one lighter or safety matches on person, gasoline, kerosene, lighter fluid or liquids in unmarked bottles.
Gas containers and aerosols with a capacity of more than 500 milliliters and/or total net quantity exceeding two liters, carbon dioxide cartridges, fire extinguishers, oxygen tanks (except as approved for medical purposes).
Corrosive, toxic and infectious substances, caustic materials, insecticides, paint, tear gas.
Magnetized materials.
Radioactive materials.
New Security Measure at Macau International Airport effective from 1st March 2019
Lighters and matches are prohibited by any means to be carried on airplanes and security restricted areas of the airport.
Camera tripods, monopods or selfie sticks with length over 30 centimeters after being retracted or folded are forbidden as carry-on items.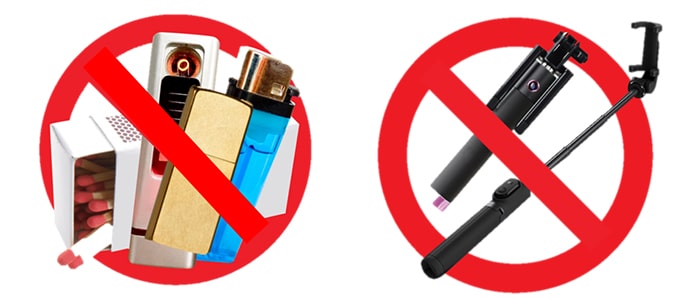 For detailed information, passengers are to contact their respective airlines for conditions of carriage and may browse the website links from Macau Civil Aviation Authority.
Liquids, Aerosols and Gels (LAGs), Restricted Articles and Dangerous Goods
Security Control
Back to the top