Macau International Airport launch Food Waste Recycling Scheme
Macau International Airport (MIA) always bears its social responsibility and commits to protecting the environment in order to develop a "Green Airport". Therefore, we spare no effort to study viable waste management methods in the hope to contribute to the sustainable development of MIA. Recently, MIA carried out a food waste recycling program with introduction of the food waste decomposition equipment (food waste disposer), and a food waste collection point set nearby the north car park. The full support and cooperation were obtained from executive body – Administration of Airports Ltd. (ADA), and participanting entities: Servair Macau; Macau International Airport Restaurants, McDonald's, airport CIP lounge, East Sun Cleaning Services Ltd., Brilliant Landscaping & Gardening Co. Ltd. The related entities will separate food waste from general garbage, and then separate out the biodegradable waste such as meat, small bones, bread, rice, pasta, vegetables and fruits, etc. The cleaning staff collect those biodegradable waste and deliver to the food waste disposer for processing. Finally, greenery staff collect the compost to growing plants in MIA. The recycling programme will turn the food waste to an endless supply of organic fertilizer, reduce the use of chemical fertilizers and destroy to the landscape.

The food waste disposer uses a microbial decomposition technology, degrade the majority of food waste into water, carbon dioxide and the remaining into organic fertilizer. The degradation process will not produce odor, harmful gases nor other residual waste. The existing food waste disposer can handle up to 150kg per day of food waste. Macau International Airport will keep considering further enhancement in the handling amount according to actual situation.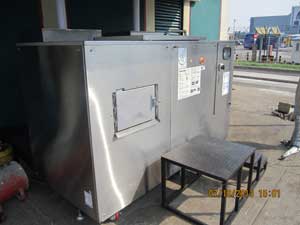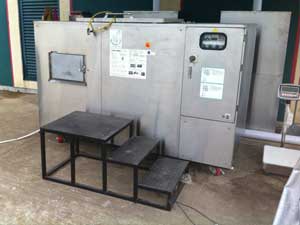 Food Waste Disposer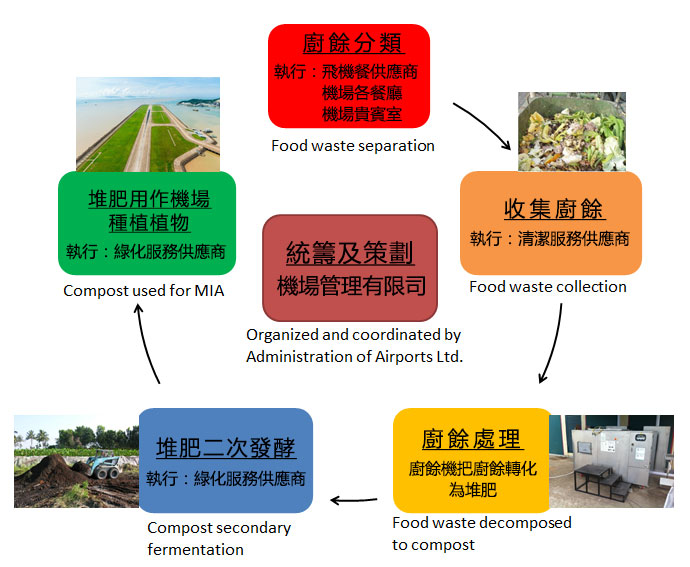 The decomposition scheme of food waste